Electric mountain bikes (eMTBs) are taking over the off-road cycling scene. You may be wondering what the best entry-level electric mountain bikes are and the pros and cons of each. In this article, we compare three popular choices in the low-price emountain bike segment to help you make an informed decision.
Motobecane HAL eBoost M600
Price: Starting at $3,299.95
Purchase From: BikesDirect.com Motobecane HAL eBoost M600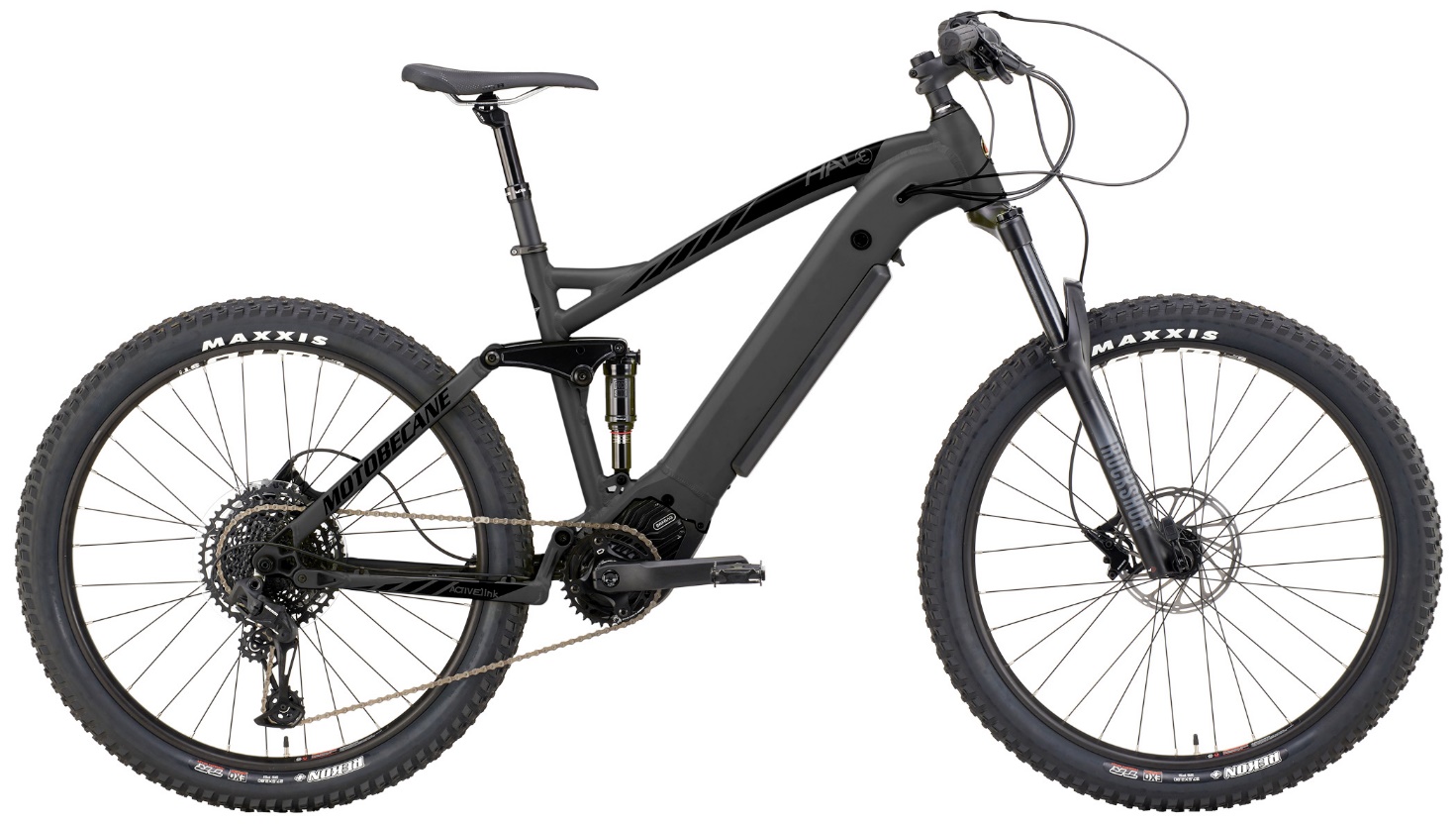 Pros:
Low price
Very powerful Bafang M600 motor
The RockShox suspension fork with 140mm of travel provides smooth rides over challenging terrain
It comes with a dropper seat post
BikesDirect will fix any issues with the bike in the first year for just a shipping charge of $70
Cons:
The brand isn't as prominent as others in the MTB world.
Battery does not last as long name brand competitor bikes
Many riders report issues with the dropper seat cable. It runs through the motor housing, and when you lower the seat post too much it can jam or get stuck. To fix it you need to drop the motor and pull the cable through or get a new cable. That repair runs $100 to $200 at the bike shop.
The brakes don't quite have the stopping power that heavier riders 190lbs+ want. Some people upgrade to bigger brake rotors and 4 piston calipers instead of 2 piston calipers that it comes with.
The detachable battery is a pain point on this ebike. The battery does not snap in snuggly to the frame. It sort of hangs out by ½ to ¾ inches. I personally had to use Velcro straps to get the battery to sit in snugly enough that the battery pins would connect with the receptors. Without the straps securing it and forcing the battery to connect, there would be no power.
Some reports of minor build quality issues, for example the power controller is plastic and breaks easily.
The eco mode, provides lots of power, which means if you want a solid workout, it's hard to dial back the power.
Riding the Motobecane HAL eBoost
Although the Rockshox Recon Lockout isn't exactly a high-end suspension setup, this electric mountain bike has a pretty good ride quality for beginner and intermediate riders. It can cope with some technical terrain, but don't take it down too gnarly as it's a little clumsier than its name brand counterparts. It's great for green trails, ok on blues, but not recommended for black trails.
This electric mountain bike is an excellent way to explore the trails thanks to its confidence-inducing geometry. You'll find yourself riding faster on the descents before using its potent 600 W motor to get you back up steep hills. Surprisingly, this motor is aided by a 12-speed Shimano drivetrain which gives you lots of scope for effortless peddling and heading further afield. Riding up hills on this bike is a blast.
You need to be aware that this electric bike does not have a true eco-mode. At power level 1, the power kicks in about 50% of the motor's capability. This can be a problem when you want to reduce the assistance level to get a workout or ride with others without electric bikes. Also, managing your battery life towards the end of your ride could be tricky. However, you can ride up to 30 miles on a single charge, depending on how you ride and the profile of your route. I can typically get in about 3,000 feet of climbing, or 3 loops around a 1,000 foot climb trail on a charge, that's maybe 15 miles. My buddies, on more expensive bikes still have 50% battery left, when mine is near empty.
You can choose your Motobecane HAL eBoot M600 with 27+ or 29-inch wheels. The 27+ wheels offer lots of grip and agility. On the other hand, the 29-inch wheels provide a smoother ride quality over technical terrain. Nevertheless, whichever size you choose, you get the excellent Maxxis Aggressor EXOTR tires, which are grippy, improving the bike's handling further.
Specialized Turbo Levo Alloy and Carbon
Price: Starting at $4,999
Purchase From: Turbo Levo Carbon | Specialized.com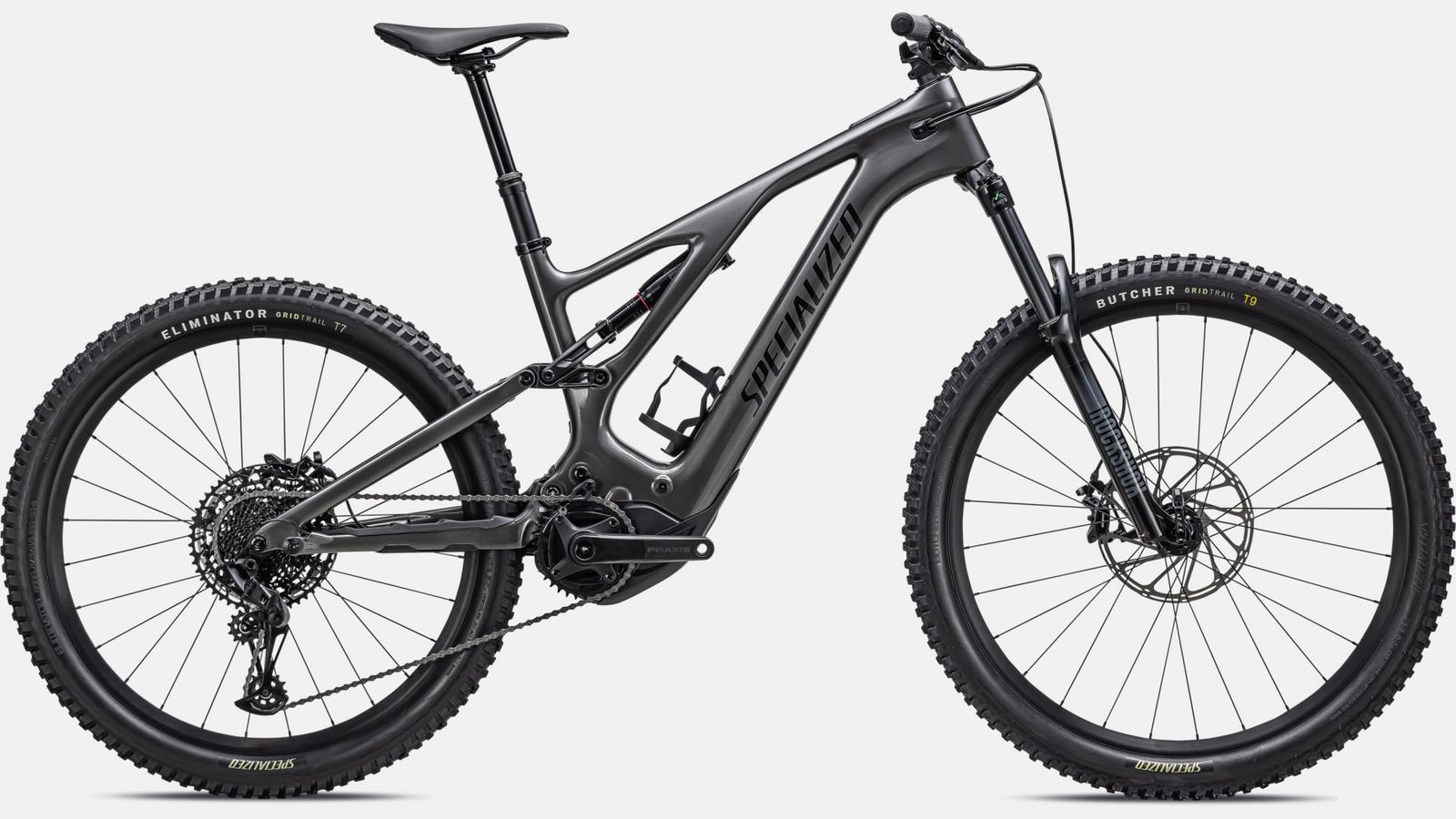 Pros:
A renowned brand with a reputation for quality.
Bosch Performance Line CX motor offers exceptional power delivery.
Adjustable geometry to suit your needs and riding style.
Customizable motor settings through the Mission Control app.
Smooth integration of the battery into the frame.
Long lasting battery
Cons:
Higher price point compared to some competitors.
The app-based motor control might not be preferred by all riders.
Some riders don't like the motor noise
Riding The Specialized Turbo Levo
The Turbo Levo Alloy and Carbon models have predictable and nimble handling thanks to its balanced weight distribution between its wheels. This symmetry ensures equal traction on both wheels, so you can rail tight corners at high speeds. Its suspension setup provides a plush and confident ride quality while feeling composed and forgiving.
This electric mountain bike boasts 150mm of rear travel and 150 mm or 160mm of travel on the fork, depending on the frame size. It also has adjustable geometry to enhance stability and a natural feeling.
Specialized Turbo Levo owners praise their bikes for being very user-friendly and fun to ride with intuitive handling. It is a true all-rounder making it exceptional value for money, even though it isn't the cheapest electric mountain bike on the market.
The Turbo Levo Alloy's battery life is impressive. Thanks to its high-capacity battery, it can sustain longer rides without frequent recharges. If you were to solely ride on eco-mode, you could get about 5 hours out of the battery before you need to recharge.
You will also love Specialized's Turbo Full Power System 2.2 Motor, which produces 90Nm of torque, more than most electric mountain bikes in its class.
Trek Rail 5 Gen 3
Price: Starting at $5,649.99
Purchase Link: Trek Rail 5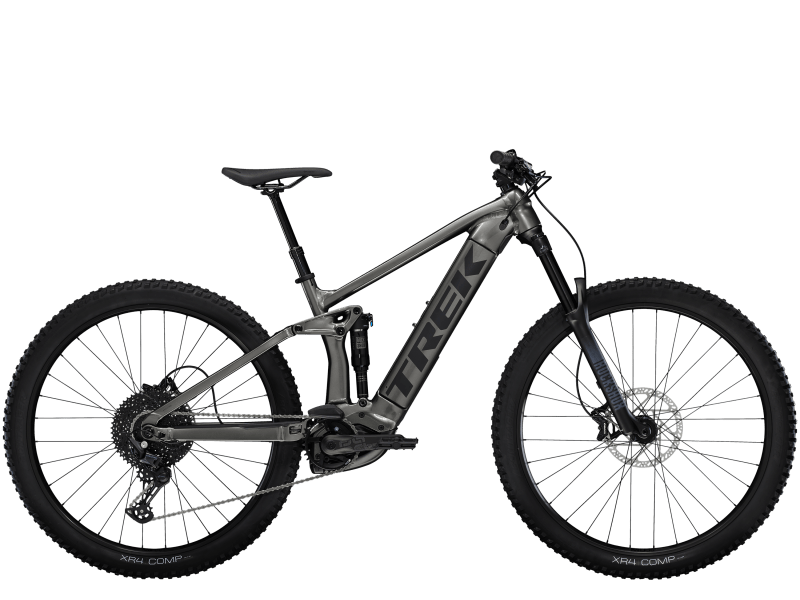 Pros:
A recognizable brand known for its innovation.
RockShox suspension offers consistent performance on challenging trails.
29-inch wheels enhance rolling efficiency and stability.
Easy and fun to ride on rough terrain
Cons:
Moderately priced but still on the higher side for some budgets.
Riding The Trek Rail 5 Gen 3
The Trek Rail 5 provides a balanced and controlled ride experience. Its suspension and geometry work together to absorb shocks and provide precise handling, ensuring riders feel confident on descents and technical sections. Some people liken it to an electric version of the Trek Slash as it sticks to a line, no matter how many rocks and roots are in the way. This bike also rates high on the fun factor, as it likes to catch some air time while being forgiving even on tricky landings.
Trek has given this bike 150 mm of travel at the rear and a 160 mm fork, and its geometry suits advanced riders and novices alike. But you can also tweak the geometry with Trek's Mino Link technology. This system allows you to dial in the perfect setup for you and what you want to do on any given day.
On top of this, the punchy Bosch Performance Line CX Electric motor produces a potent 85 Nm. This, combined with the Shimano 12-speed drivetrain, makes riding up steep and technical hills a piece of cake. The result is addictive climbing and plenty of energy left in your legs for technical and fast descents.
Which Electric Moutain Bike to Choose
The Motobecane HAL eBoost M600, Specialized Turbo Levo Alloy, and Trek Rail 5 each bring their unique strengths and trade-offs to the table.
The Motobecane HAL is the cheapest; the Specialized Turbo Levo comes from a reputable brand and has advanced motor features. Meanwhile, the Trek Rail impresses with its entertaining ride and handling prowess.
Your choice will be down to your personal preferences and, ultimately, your budget. If you want a proper electric mountain bike to take on technical terrain, go for the Specialized or the Trek. However, the Motobecane is an good choice as long as you are realistic about its capabilities and are willing to put up with it's issues.